Physicians Disability Income Protection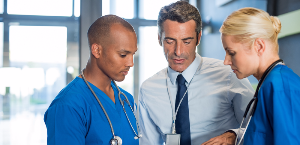 Disability Income Insurance pays you a monthly benefit so you can continue to support yourself, your family, and pay the bills.
Our agency administers the Disability Income Programs we offer for Physicians. That means that you will receive personalized service directly from our agency – including at time of claim if you are injured or sick.
To apply, you must be a physician under age 60 who is active in the profession, and a member of the Medical Society of the State of New York or the New York State Society of Anesthesiologists.
Favorable Benefit Limits
Under Age 50 - $17,000/month ($204,000/yr.)
Age 50-59 - $10,000/month ($120,000/yr.)
Based on Health & Financial Underwriting
"Own Occupation" Protection
If your occupation is limited to a recognized specialty within the scope of your degree or license, the Company will deem it to be your Occupation. Your Occupation is the Occupation you are engaged in at the time you become disabled.
Customize your plan with a choice of Waiting Periods and Benefit Periods
Valuable Optional Benefits Available
Underwritten by Life Insurance Company of Boston & New York (Athol Springs, New York)
Information provided is a summary only. For complete terms and limitations, please refer to the applicable Certificate or Policy of Insurance. Specimen copies available upon request.